News
Ghana to construct a world-class stadium with solar roof in their bid to host World Cup in 2038
Rumours have been going around for some days now about the plan of Ghana planning to bid for hosting rights for the 2038 World Cup organised by FIFA.
The 2038 FIFA World Cup hosting proposal fits in with a 40-year development plan to upgrade infrastructures around the nation.
An ultra-modern stadium with the moniker Black Star Stadium will be one of these infrastructures.
The solar-roofed, 21st-century Black Star Stadium will be designed to resemble Ghana's well-known black star on its flag.
This was revealed in a post on social media with an artistic impression of the stadium attached to it.
See the photo below: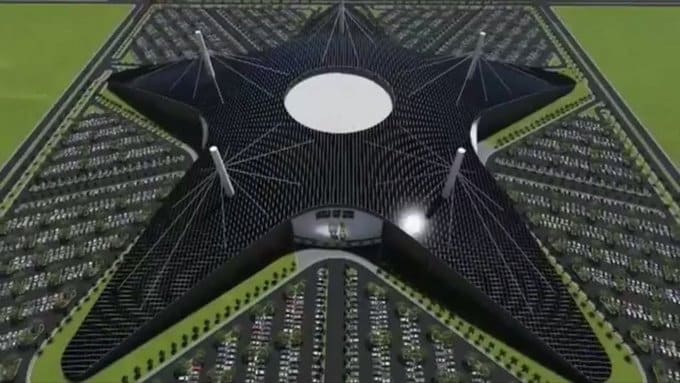 Read some comments from netizens below:
@TokunboAdesina: "This is needless for a country that recently defaulted on it debt obligations, fiscal discipline is much needed"
@_adomAsante: "Construction is not the problem but maintenance"
@ras_priest: "So they leave it to rot in 2 years?? Like we no know what dem do to the 2008 AFCON fields mtchew"
@RoyKean91: "People are funny ooo even Maroc couldn't host the world cup coz of some few things and by 2038 Ghana can't be at half of current Maroc. With this our leaders? Gerrout!"
@Stingyman___: "Wei de3 s3 100million billion dollars oo??? Cathedral sef this na stadium with solar panels?"
@FIILTA: "Korshoror, una go fit build this? Nanka u go budget say u use 1trillion USD. Important things are there u haven't tackled yet, economy make like fallen boobs, u are thinking of World Cup. Can you match Qatar ??? Have you seen the standards?"