Gossips
Illegal gold miners in Ghana dying from irreversible lung damage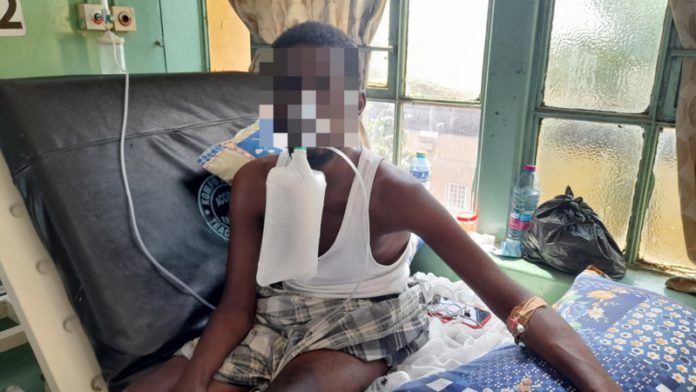 A Luv News investigation has found that some illegal gold miners are totally dependent on oxygen as a result of their exposure to mining dust that has caused irreversible damage to their lungs.
Autopsy reports revealed that over 70% of lung tissues sampled from mine workers contain dust and heavy metals.
As he took his fifth step away from the bed, Kwame Asugre began to experience that unpleasant sensation of uncomfortable rapid breathing. He felt winded and his chest constricted. With each difficult breath, a whiff of inhaled air turbulently screeched through his airway.
Kwame drooped forward and knelt down as his breathing became even more laboured, he could barely cough up a cry for help.
Nurses rushed to his side, supported him back to his bed, and placed a face mask over his mouth and nose which they secured around his head with an attached elastic band. The oxygen delivery rate was at its highest, 15 litres per minute.
It took a while before Mr. Asugre reconciled with his breath.
Kwame Asugre is unable to engage in any activity without supplemental oxygen. His oxygen dependence is a consequence of a decision he took some fifteen years ago.
Mr. Asugre started: "I was a head potter at the Kejetia market; I carried very heavy items such as bags of rice, boxes of canned tomato paste and drinks, etc.  These things were heavy and the money I was making was not enough to cater for my family."
"I was struggling and I remember how many of my friends and family at Sehwi were involved in Galamsey (Illegal mining). They were making money. When I heard a new mine had been opened in the area, I decided to travel there to work and make some money too," he added.
Artisanal albatross
West Africa's gold hub, Ghana, is recognized today as the largest producer of gold in Africa. According to The Forbes Business issue in 2021, Ghana produced about 138.7 tonnes of gold in the year 2020 displacing South Africa as the number one gold producer in Africa, and defending its pre independence title as the Gold Coast.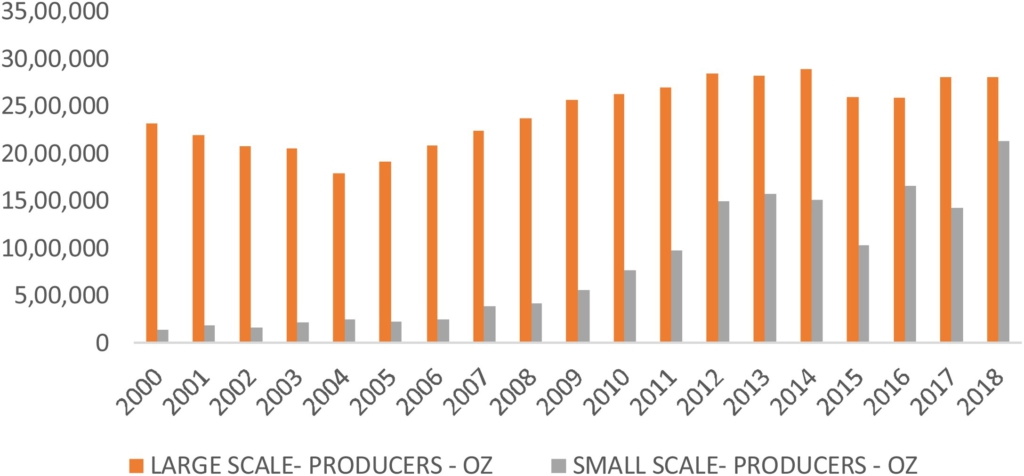 The gold mining space in Ghana is subjugated by large scale mining (LSM) and small-scale or artisanal small-scale mining (SSM/ASM).
Rapidly surging and widely practiced, artisanal and small-scale gold mining is a substantial source of income for many locals in the areas where it is undertaken.
Small-scale gold mining was once a respected traditional vocation in Ghana according to Dama Academic Scholarly & Scientific Research Society's article published in 2019.
However, after the government legalised the practice in the late 1980s, several issues arose. The endless yet cumbersome processes required in order to obtain a mining permit was slow and unyielding especially for provincials. This forced many locals into illegal artisanal small-scale gold mining operations.
'Galamsey', a term coined from the phrase "gather them and sell" became a local verbiage when referring to illegal small-scale gold mining activities in the country.
Just like any other occupation, there is division of labour. One of the crucial workers in the galamsey value chain are the 'pounders'. They are involved in pounding the rocks to obtain a fine dust for further processing.
Mr. Asugre was a pounder. He recounts, "I could pound two to four buckets full of stone repeatedly till it became like fine sand, after that we would go for another set of three or four.
"We would pound from early morning till late night. Sometimes it gets so dark at night that we set fires so we can continue working.  We sleep briefly then immediately after day breaks we continue.
"You collect your money based on the number of buckets you are able to pound," he added.
Within the last two years, Mr. Kwame Asugre, has been in and out of hospital with complaints of breathing difficulty and chest pain associated with minimal work. He admits he has lost a substantial amount of weight and his family is worried.
"I noticed I was not as strong as I used to be. It has gotten worse over the past two years. I cannot even take my bath or clean myself. I usually get extremely breathless and weak," he complained.
Dust disease
Mr. Asugre, is being managed as a case of a disease known as Silicosis at the Komfo Anokye Teaching Hospital in Kumasi.
When inhaled, silica particles are deposited in the expansible air sacs of the lungs.
This causes irritation and the body activates its defenses in an attempt to get rid of the foreign body.
Immune cells known as macrophages are dispatched to the site where silica particles are deposited.
On arrival, macrophages devour the silica and this leads to the formation of excess scar tissue.  
There is the permanent loss of the lung tissue's ability to carry oxygen. The lungs therefore lose their function.
This explains Mr. Asugre's chest tightness and recurrent episodes of breathlessness.
He has been counselled about his condition and needs to go home with oxygen tanks, as he can no longer survive on the oxygen available in the air.  
Silicosis, according to the Centres for Disease Control and Prevention (CDC), is an irreversible lung disease caused by inhalation of silica dust. Though random environmental exposure may seldom relate to the disease, the leading cause is occupational exposure.
Dr. Kwaku Gyasi Danso, a Physician Specialist at the Komfo Anokye Teaching Hospital says people develop this disease by inhaling certain substances at their work places.
Silica dust is found in sand stone or granite, therefore, anyone who works in areas where a lot of silica dust is produced is at risk of silicosis.
"Commonly, those in the mining industry, construction industry, sand quarry industry, masons, and people working in dental laboratories who may polish silica-containing substances," he further explained.
Dr. Danso says signs and symptoms are based on the level of exposure of the individual to the silica particles. It can either be acute, accelerated or chronic.
They would often come with fever, difficulty breathing and pain on taking in breaths. Often it is also marked by severe weight loss.
"When it is acute, the individual comes to the hospital within weeks to up to about 5 years of being exposed to the silica dust. This is often when there is very high exposure like in silica flour processing or at blasting sites. These release a lot of silica particles into the air. If the individual working in such an environment is not wearing masks that have filtering capacities to filter out these dine particles, they develop acute silicosis.
"Medium term silicosis or accelerated silicosis occurs when there is moderate exposure to silica particles and they come with fever, difficulty breathing and pain on inhalation," he explained.
"Chronic silicosis on the other hand runs a gradual course and may show up about 10 years after the exposure," he added
Unfortunately, if the person is an illegal miner and stopped about 5 or 10 years ago, they are still likely to develop these complications.
Ghana's dire case
A historical account by Elaine Katz published in 1994, explores how the lungs of the early foreign miners in South Africa were wasted by silicosis.
Katz stated unequivocally, "Although a great deal has been written about the development of the gold mining industry, only a tiny slice has been devoted to its medical and health past."
The 2006 public report presented by AngloGold Ashanti notes, "Some 1 million people have left the mining industry over the past 20 years, whether because of downscaling and closure of operations or retirement and ill health."
One million is huge, especially when the years under consideration are only 2 scores. The uncertainty surrounding the cause of the exit of such a number of people from the industry should have sounded an alarm.
Unfortunately, Ghana has little to no data on health implications of working in the mines let alone that for artisanal small scale mining.
Indeed, many mine workers have died following strange and unexplainable diseases.
Prof. Ossei Sampene, a renowned pathologist and lecturer at KNUST School of Medicine and Dentistry speaks of his clinical encounters with silicosis.
"I have personally performed autopsies on people from Obuasi who died of this condition.
"Often about 70%-80% of lung tissues sampled from mineworkers contain dust and heavy metals," he emphatically stated.
"I recall being asked to perform an autopsy by the professional hazards department on a man whose family wanted to determine if the cause of his death was of occupational origin," he recounted.
"Before death, the young man was observed to be coughing and vomiting blood," Prof. Sampene revealed.
He observes that relatives of the deceased mostly suspect poisoning when they see the coughing or vomiting of blood, however, samples when tested for poisonous substances usually come out negative.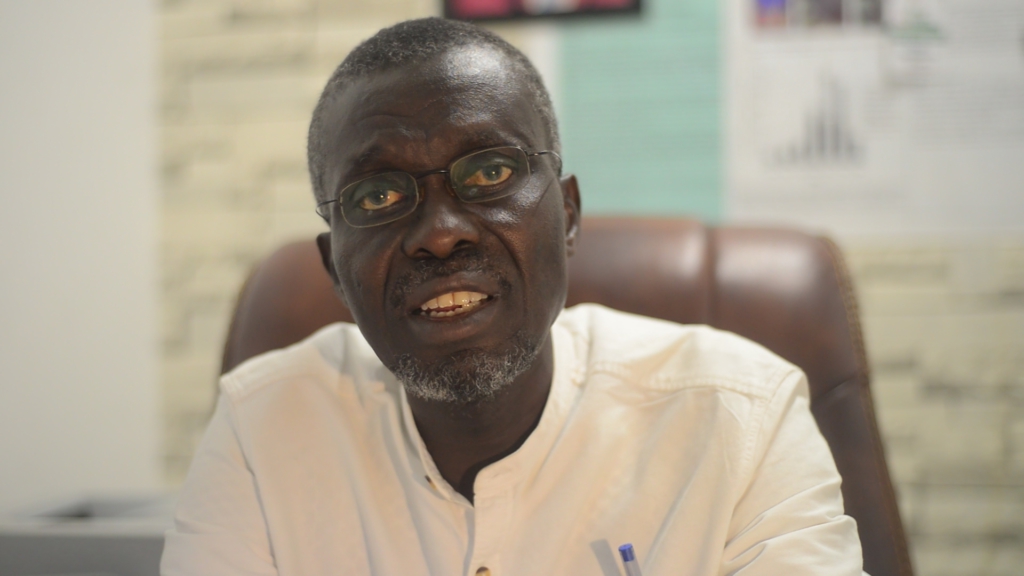 He further explained, "When I look at the lungs wholly, I can tell that the individual has been exposed to either heavy metals or dust. However, it is when viewing the lung changes under the microscope that it can be confirmed that what the individual has is indeed silicosis."
George Appiah in twin hells
Ten years ago, George Appiah was a high school student eager to make some money. He engaged in galamsey from 2012 to 2015 where he worked at the blast site.
At 23 years, he finds himself in a similar situation as 50-year-old Kwame Asugre. George is also oxygen dependent and is filled with confusion due to his present state. His future has been mercilessly snatched from him by galamsey.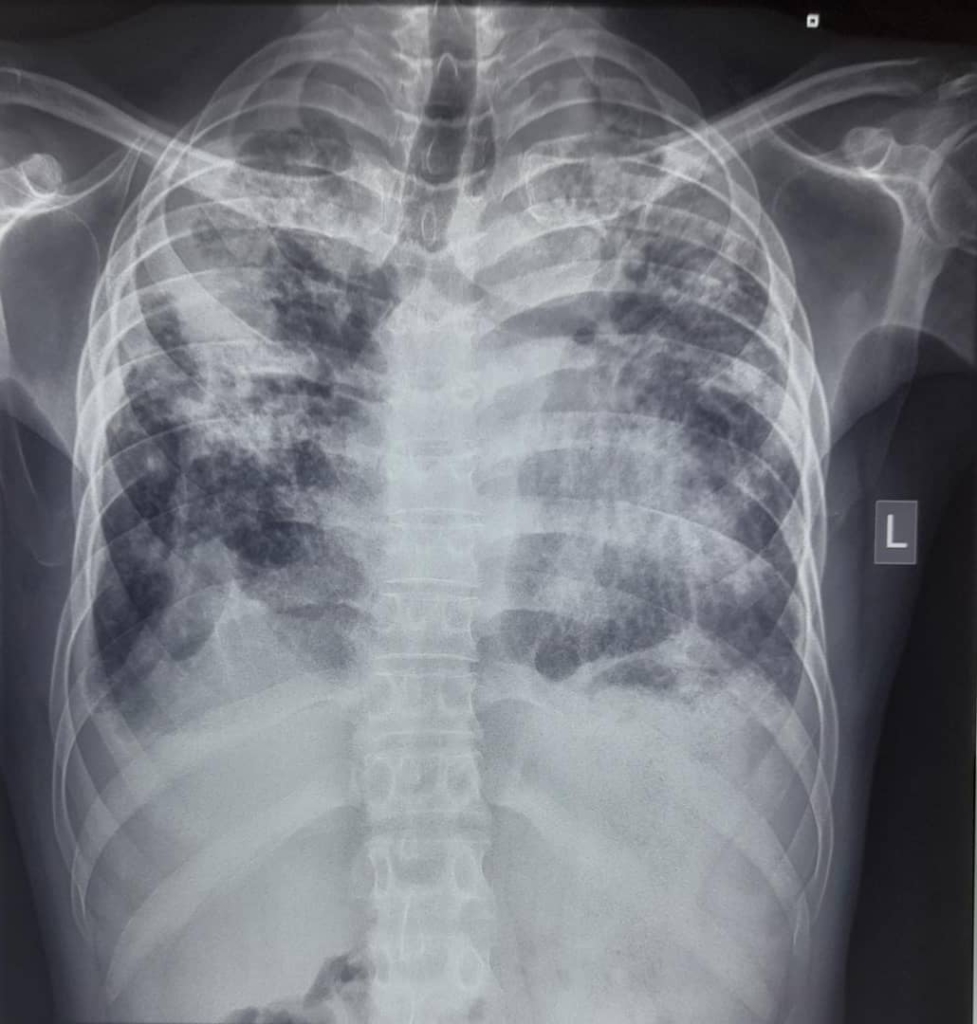 "What is worrying me is that those people I met there are still alive without any issues. Some take alcohol, I don't take alcohol but I am suffering.
"For 2 months now I've been on oxygen. At first, I could do a few things, then I could go out. Now, I cannot do anything," he complained.
"I know TB can also be like this because most of the people around me got it and were treated and are better. I have seen 5 or 6 people get better after the medication.
"I have taken the Tb medication but no improvement. Just look at me," he disturbingly ended.
In the 1920s, Frederick Hoffman, a researcher in the United States, discovered that the rate of tuberculosis was proportional to the duration of exposure to silica. Through his studies, he showed that silicosis alone was sufficient to lead to higher rates of tuberculosis.
A research article published in the journal, PLOS One in 2021, investigated occurrence of cases of tuberculosis among some mining communities in Ghana. The study revealed that miners and the communities in which they live are identified as being at higher risk for TB than the general population
Dr. Kwaku Gyasi Danso revealed quite a number of mine workers come to the clinic with the complication of 'Silico-Tuberculosis'.
He explains the relationship that exists between silicosis and Tuberculosis.
"Silicosis is notorious for being complicated by tuberculosis. This accounts for quite a number of patients seen with silicosis."
He continued, "Globally, 1.7 billion of us have what is referred to as 'latent TB infection'. We have actually been infected with the mycobacterium but because our immune system is strong, the Tb organism is walled up in our lungs, like larvae in a cocoon."
Dr. Danso further explained that typically, patients who come with TB infection usually have an underlying condition which reduces the body's ability to keep the bacteria responsible for tuberculosis in latency.
He revealed, "Usually, HIV positive patients and diabetics commonly come to the clinic with Tuberculosis. Putting this group aside, the majority of people come with the picture of silico-tuberculosis, most of which are mine workers or people who have had a history of such."
"The unfortunate thing is this, when someone develops silicosis, this walling up process becomes defective and the person easily develops full blown Tuberculosis infection. When this happens, the disease progresses and the organism can erode or eat into some surrounding blood vessels. This can cause blood to be coughed up from time to time," he described.
Dying on oxygen
When an individual develops silicosis, their quality of life severely worsens because there are constant challenges of difficulty breathing and recurrent chest pain. Some can be so breathless that they have to be oxygen dependent.
When asked about treatment options for the condition, Dr. Danso enlightened: "The only definitive treatment for silicosis is lung transplant!"
"There are medical therapies that we explore, sometimes steroid therapies or immune suppressants are given to reduce the effects. Most often they are not effective. We try to treat the complications in order to improve the quality of life of the patient. In reality there is no clear-cut treatment aside from getting a lung transplant," he concluded.
Like Asugre, George would require oxygen cylinders at home.
George recounts his wages for working at a galamsey blast site seven years ago.
"They give me GHC 50, 30 or 20 depending on the work. By 2015, I stopped. I haven't been there again."
Taking the maximum wage per day to be 50GHC, assuming he worked seven days a week he would have made about 1,500GHC a month and an average of 18,000GHC annually. For the 3 years of work that would be a total of 54,000GHC.
An oxygen tank requires a minimum of 600 GHC to fill. When filled, it lasts for about 3 days when usage is regulated and less when always in use. This means George will require at least 6,000GHC a month to stay alive, and 72,000GHC a year.
Obviously, the equation remains imbalanced.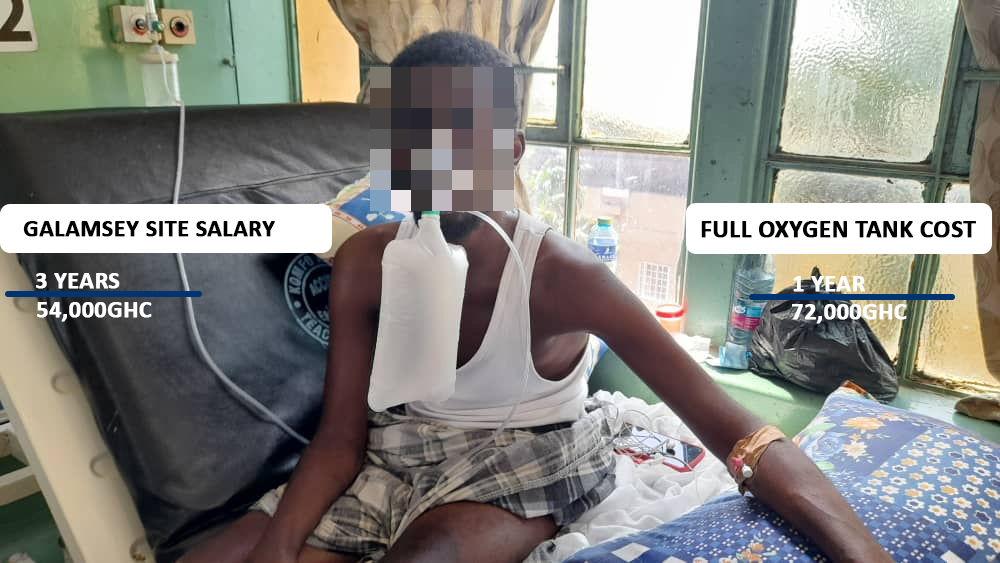 Again, prolonged exposure to high concentrations of oxygen is often toxic. 
According to an article on oxygen toxicity in the annals of Pharmacotherapy "benefits of oxygen therapy have been known for many years; however, its potential toxicity has not been recognized until the last two decades. 
The lungs, the eyes, and, under certain conditions, the brain are the organs most affected by prolonged exposure to high oxygen environments. 
Prof. Sampene cautioned: "prolonged oxygen therapy eventually leads to oxygen toxicity and poisoning of the cells. Many cells will then break down, leaking all manner of bacteria into the blood. 
Oxygen therapy does not mean survival, it only makes the patient die comfortably."
Prioritising miners
It is bewildering that we think only about producing more gold and barely about our exposures and their implications on our health and environment.
A publication in January 2022 on Science Direct discovered the non-existence of the Occupational Safety and Health (OSH) system management in Ghana's ASGM sector in the study area.
The research identified "a poor level of adherence and strategies for enhancing OSH policies in ASGM since there was none to refer to."
According to the article, these discoveries suggest clear Occupational Safety and Health violations in the ASGM sector in the study area.
"It is important that workers are adequately protected from all these possible long term effects," Dr. Kwaku Gyasi Danso advices.
"Mining in all forms that releases a lot of dust into the air would require that the people involved are adequately protected with quality air filtration devices, so that they don't develop something as disturbing as silicosis.
"Most often, those engaged in small scale mining, in our setting galamsey, are not well equipped with these devices so in the short term they make a lot of money but years to come they often develop so many complications," he identified.
Dr. Danso also cautions that those in stone quarrying, masonry, anyone who deal with dust or works in cement factories should be appropriately donned in PPE.
Prof. Sampene also voiced, "Surface mining is using the worst method ever to extract the tiniest of gold and comes at the consequence of environmental and self-distraction."
He added, "My only information is education, education, education and nothing more. The entire country needs to be educated, and the systems need to reflect this education.
"The youth are so involved in it. Some high school students don't even go to school at all. Some children as young as four or five follow their parents to these sites and inhale all sorts of things.
"The government should have a way of enforcing a no surface mining stance," he ended.
Ghanaian Authorities need to have systems in place to make sure that mining is well regulated.
There is also the need to invest in research in order to generate data that can drive policy. Having frugal data on occupational health of mine workers when we are currently Africa's number 1 producer of Gold, is quite disgraceful.