Fashion
12 Chic Tips on How to Rock Flared Skirts with Style
I have something for you if you have a straight body type and aren't too secure in it. You made a good approximation. Flared skirts are in.
These skirts do a great job of disguising your body type. However, that isn't their best quality.
Additionally, they increase the volume in your lower body, providing the appearance of curves.
You could wonder, "What if I'm not straight-shaped?" What if your body type is apple, pear, or hourglass?
Of course, you can still wear a flared skirt. For curvy shapes, it doesn't just help you hide your figure from peering eyes. It also keeps people guessing your silhouette and even admiring you more when your curves penetrate beyond the flare to their eyes.
If you've been looking for chic ways to style your flared skirts and make a fashion statement, your answers are in this article.
What About the Flared Skirt?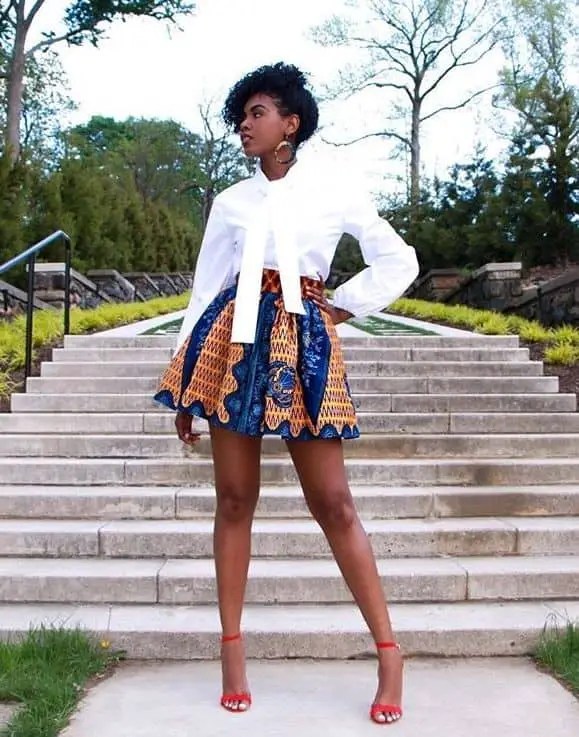 Some people call it 'flay skirt' while others call it 'flare skirt.' If you're guilty of calling it either of both names, please stop it already. The name is 'flared skirt'  with the word 'flared' modifying the noun.
Since this isn't an English class, let's see other details about this skirt.
As the name implies, the skirt flares out from the waistline at the bottom or at the end of the legs rather than the top.
It isn't form-fitting, unlike the pencil skirt. And skirts with flare usually come as different types of skirts. For instance, they could be maxi, midi, or mini. They can also be pleated, gathered, layered, or simply flared.
How to Wear a Flared Skirt
1. Rock it With a Dress Shirt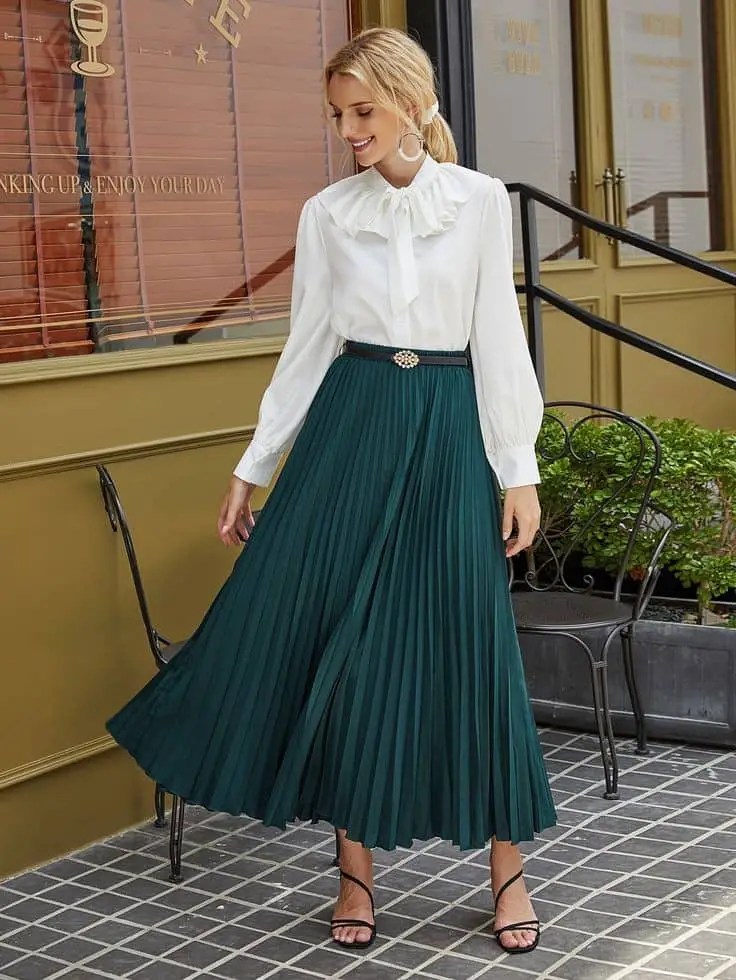 A button-down/up shirt or any modest blouse for work will always look great with a flared skirt.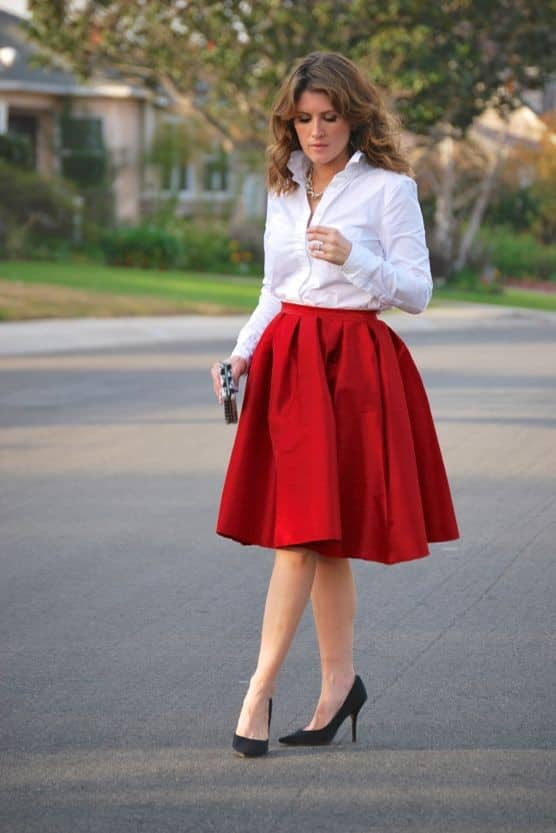 You can as well tuck in to ooze a business casual vibe. This flared skirt outfit idea is suitable for the office, church, or luncheon. It works with knee-length, midi, or short skirts.
Pair with a Bodysuit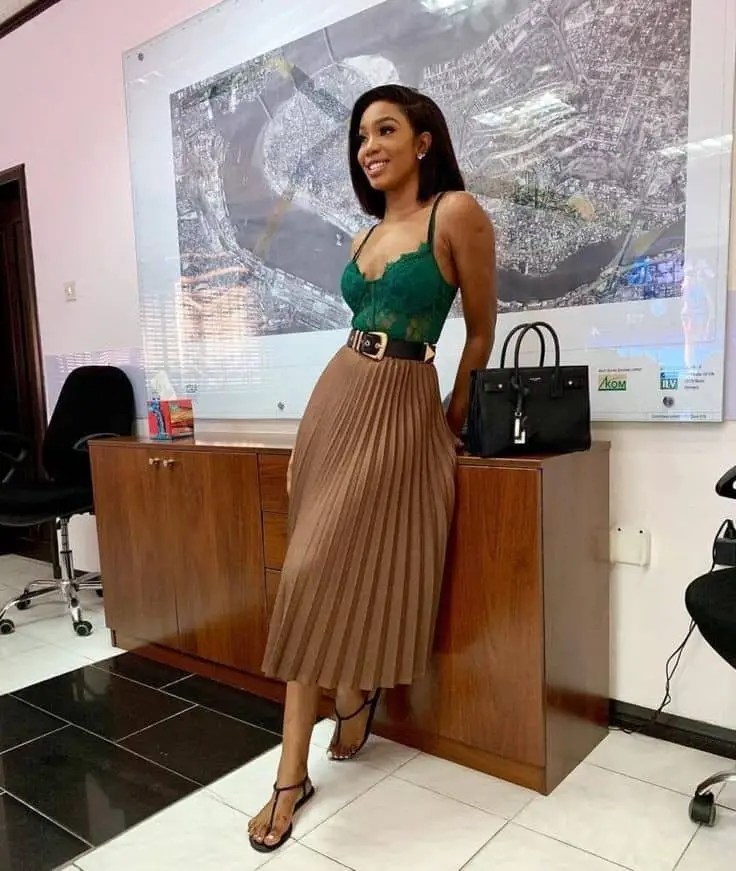 Bodysuits always suit your body. No pun intended but those tops are really cool. The way they hug your body helps frame your contours. Also, they can be sleeveless, short-sleeved, or long-sleeved. It just depends on your personal style.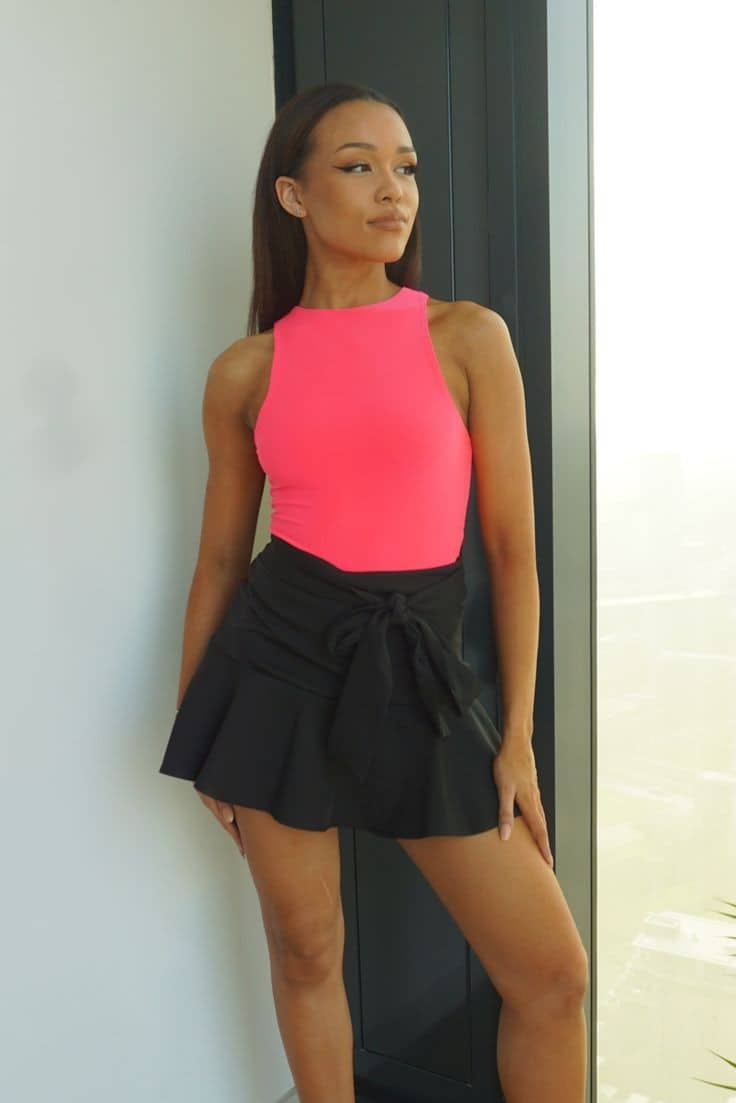 Moreso, since they're body-fitting, they're great to be paired with a flared skirt. Why? They'll let your skirt take the shine while they just stick to your body.
3. Wear it with a Turtleneck Top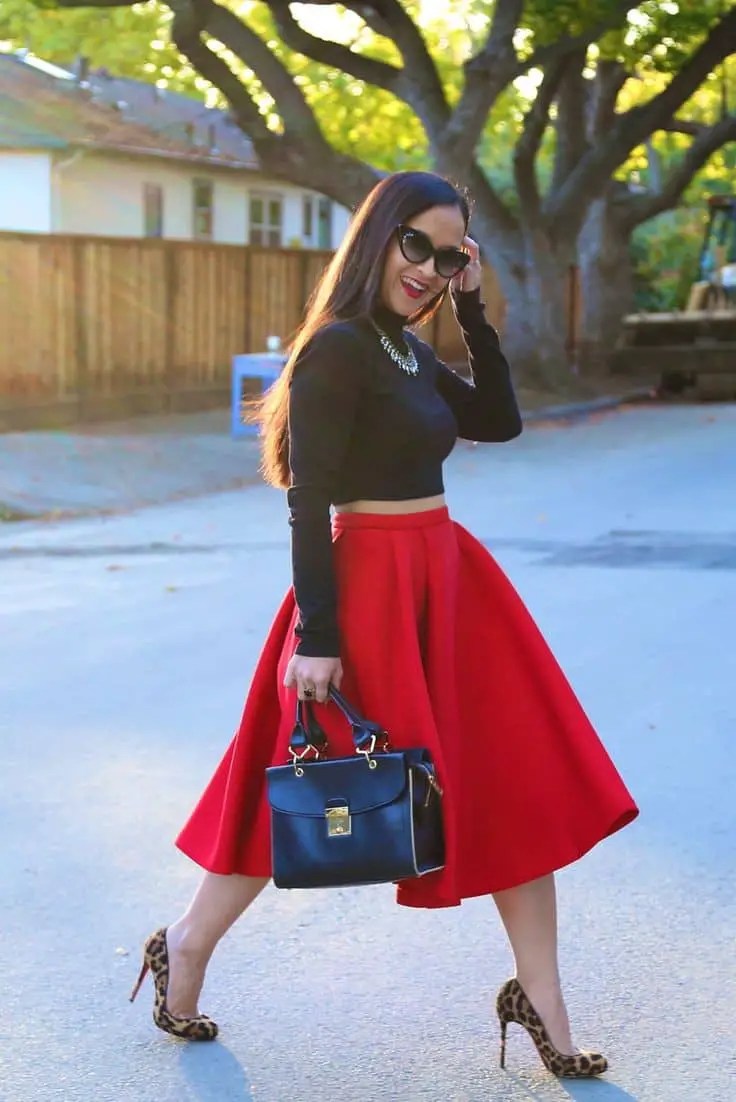 Turtlenecks are multipurpose tops that always come in handy for any occasion. Pair one with your flared skirt.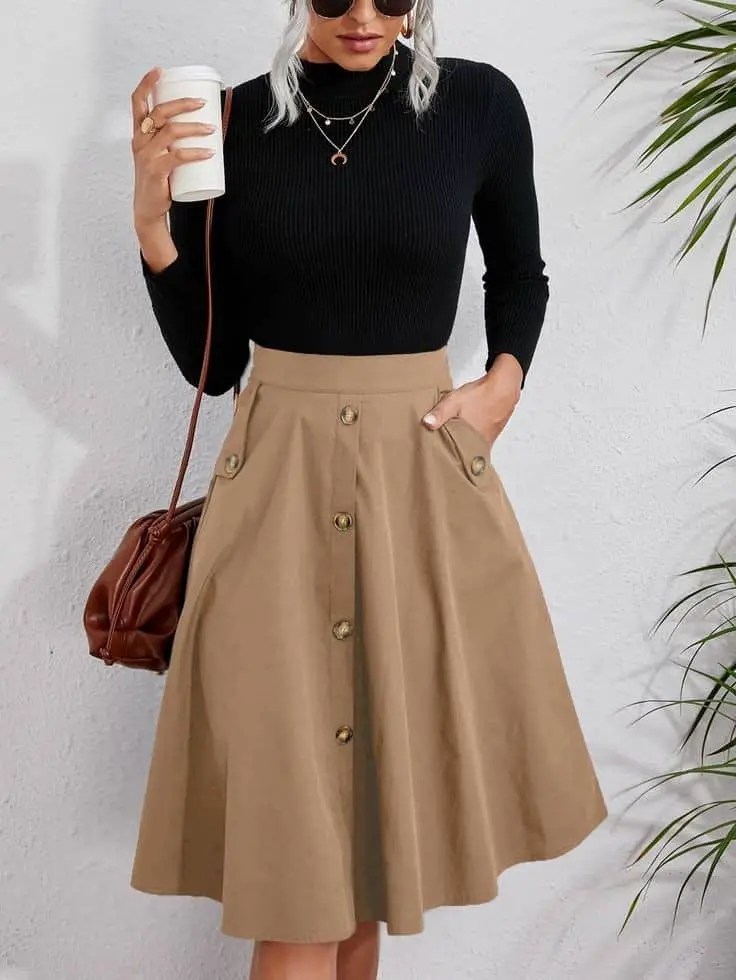 You can choose to tuck in the top or let it sit out. Whichever one is a great choice.
4. Pair with a Camisole or Tank Top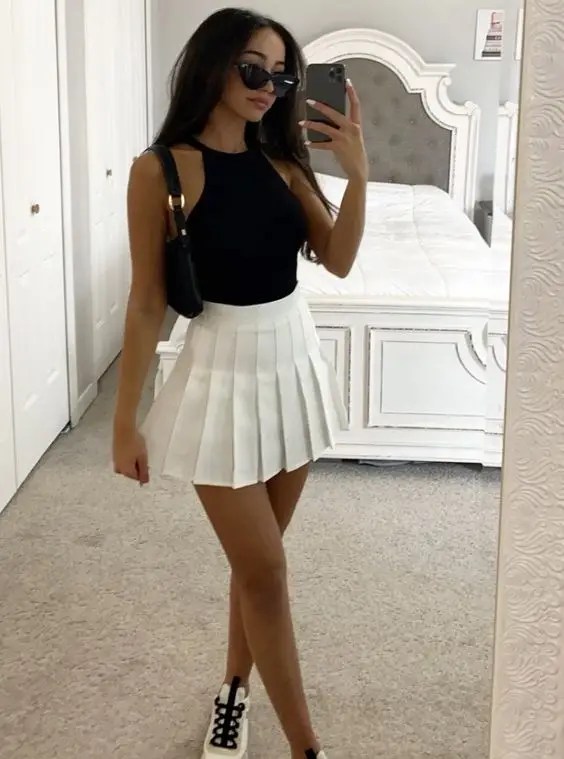 Do this option if you love everything sleeveless. Camisole or tank tops will help you flaunt your arms while you rock your flared skirt.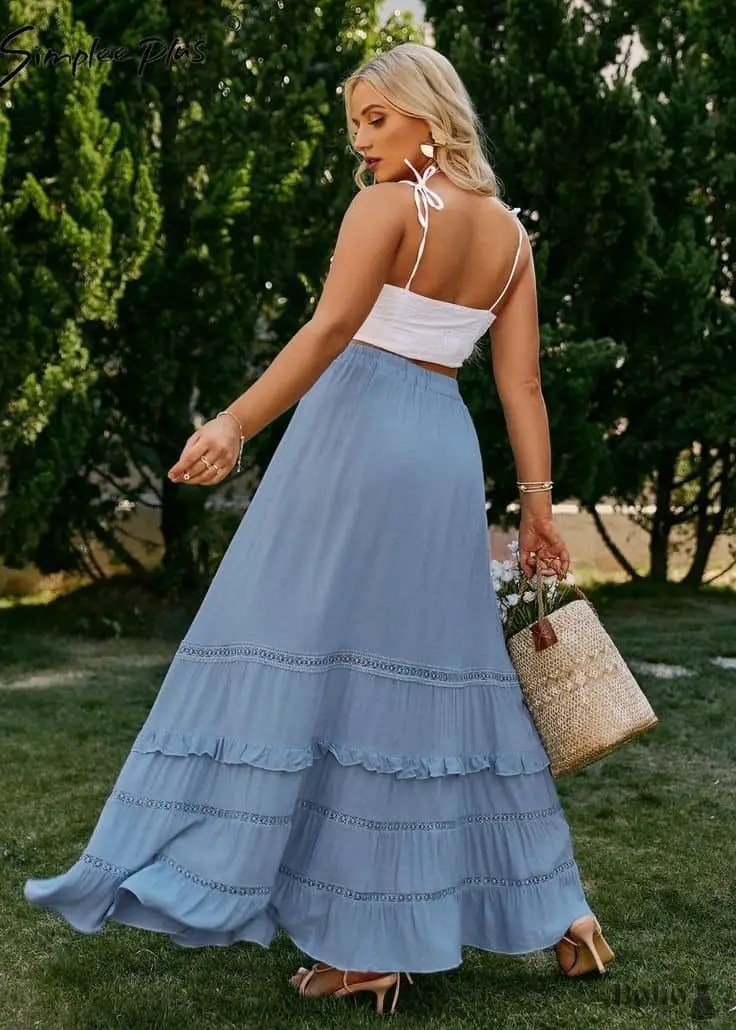 5. Layer as Usual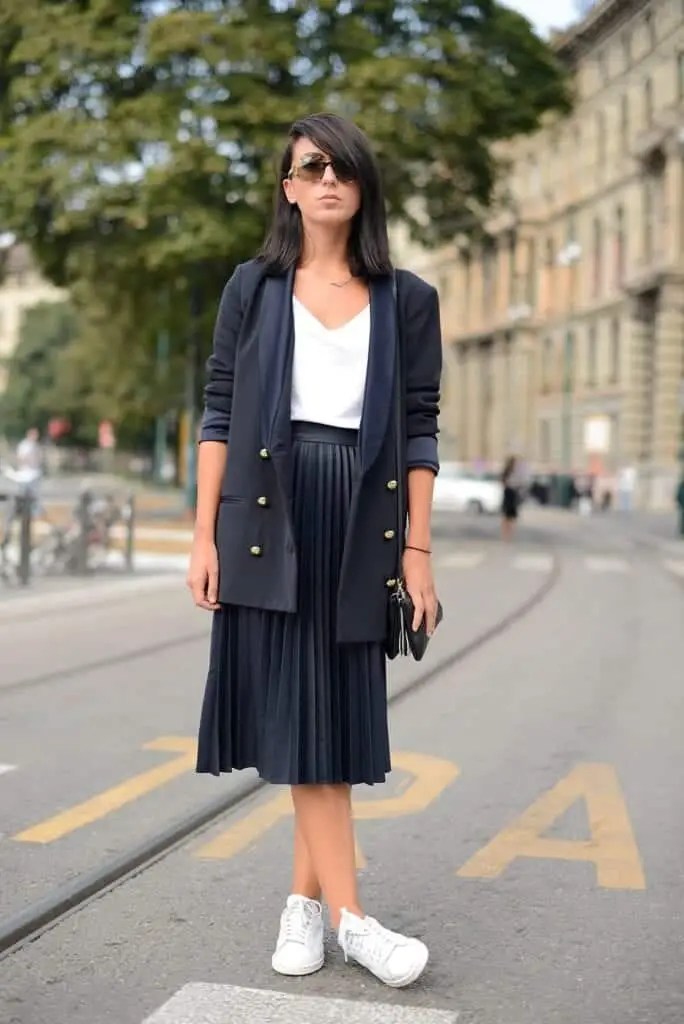 If you aren't comfortable wearing only a tank top or camisole, feel free to layer it with a blazer, kimono, jacket, duster, cardigan, or sweater.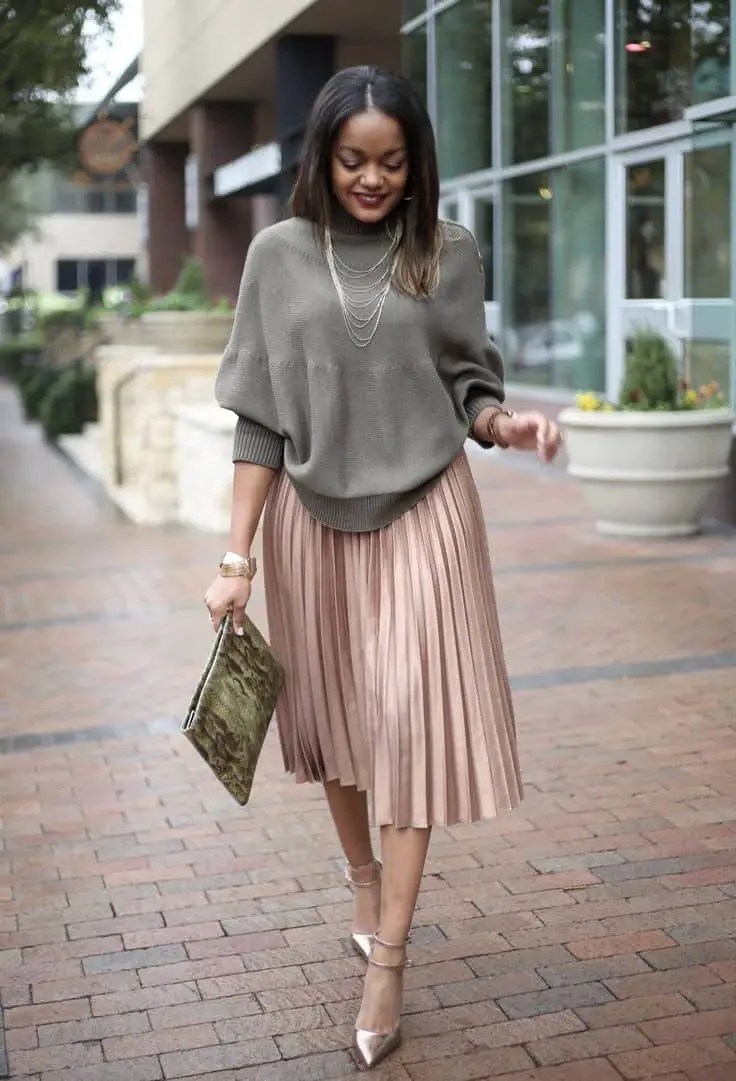 This also works for any kind of top or shirt.
6. Or Wear a Tee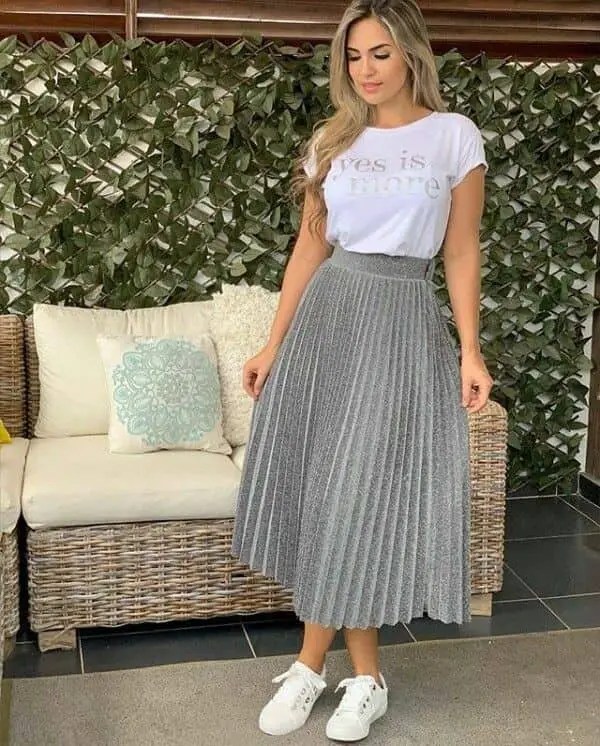 T-shirts also work with flared skirts. You can go for an oversized tee or the one your size. Feel free to tuck them in to blouse out or wear them like that.
7. Give Your Crop Top a Shot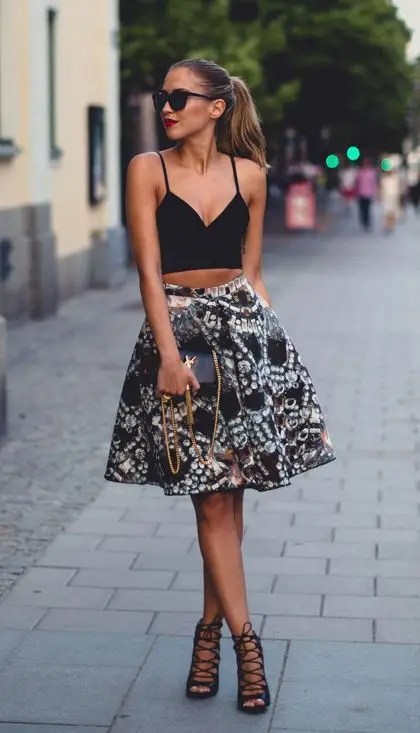 This works with high-rise flared skirts. Since the skirt is high-waisted enough to reach your midriff, it'll befit your top.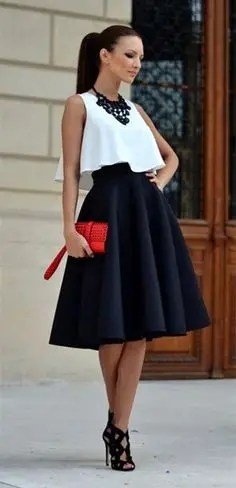 However, this isn't compulsory. If you're comfy pairing your crop top with a low-rise flared skirt to show your midriff, feel free to do it.
8. Mix those Prints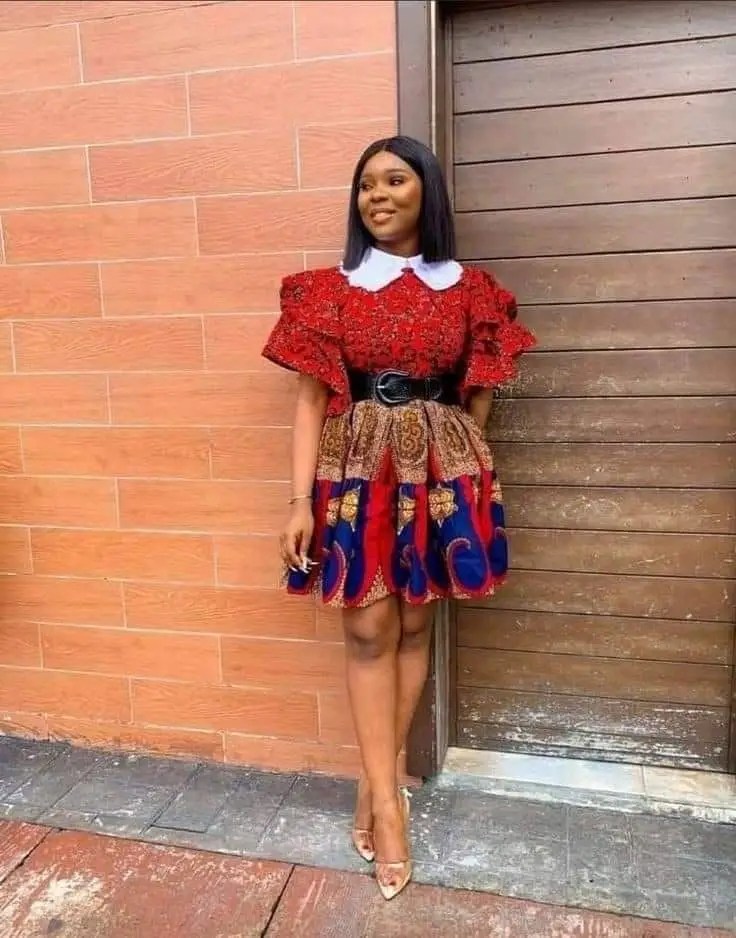 Did you just get a floral or ankara skirt? Great. Paired it with a polka-dot top.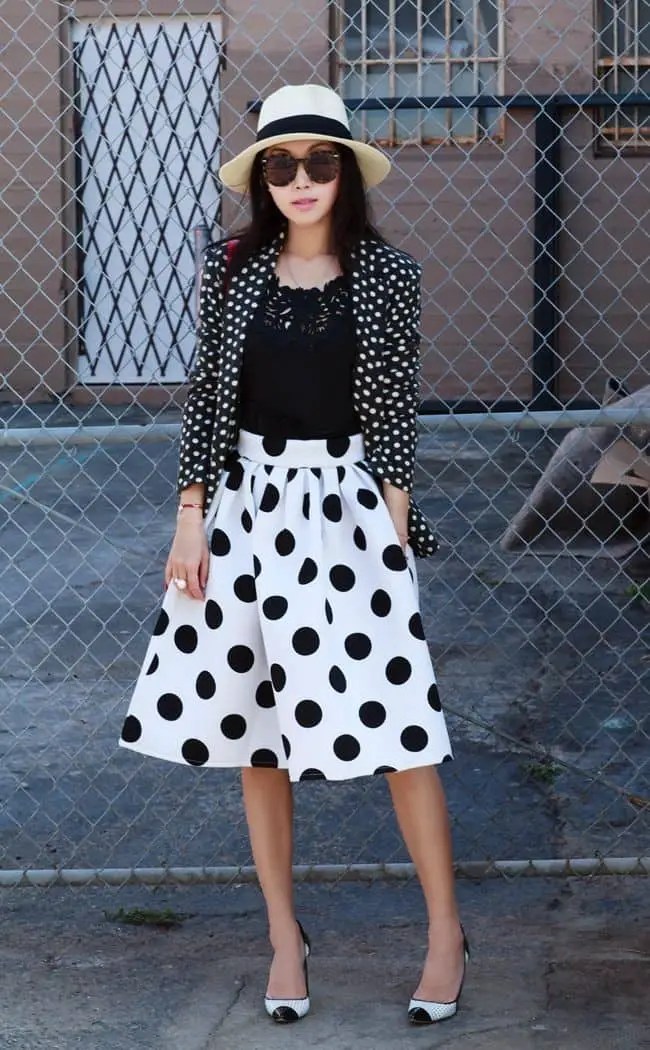 Don't look at me like that. Wearing different prints is a fashion rule that has long been broken. So, go ahead and use this tip for any prints you want.
Or better still, check our style guide on how to mix different prints in your outfits.
9. Go Denim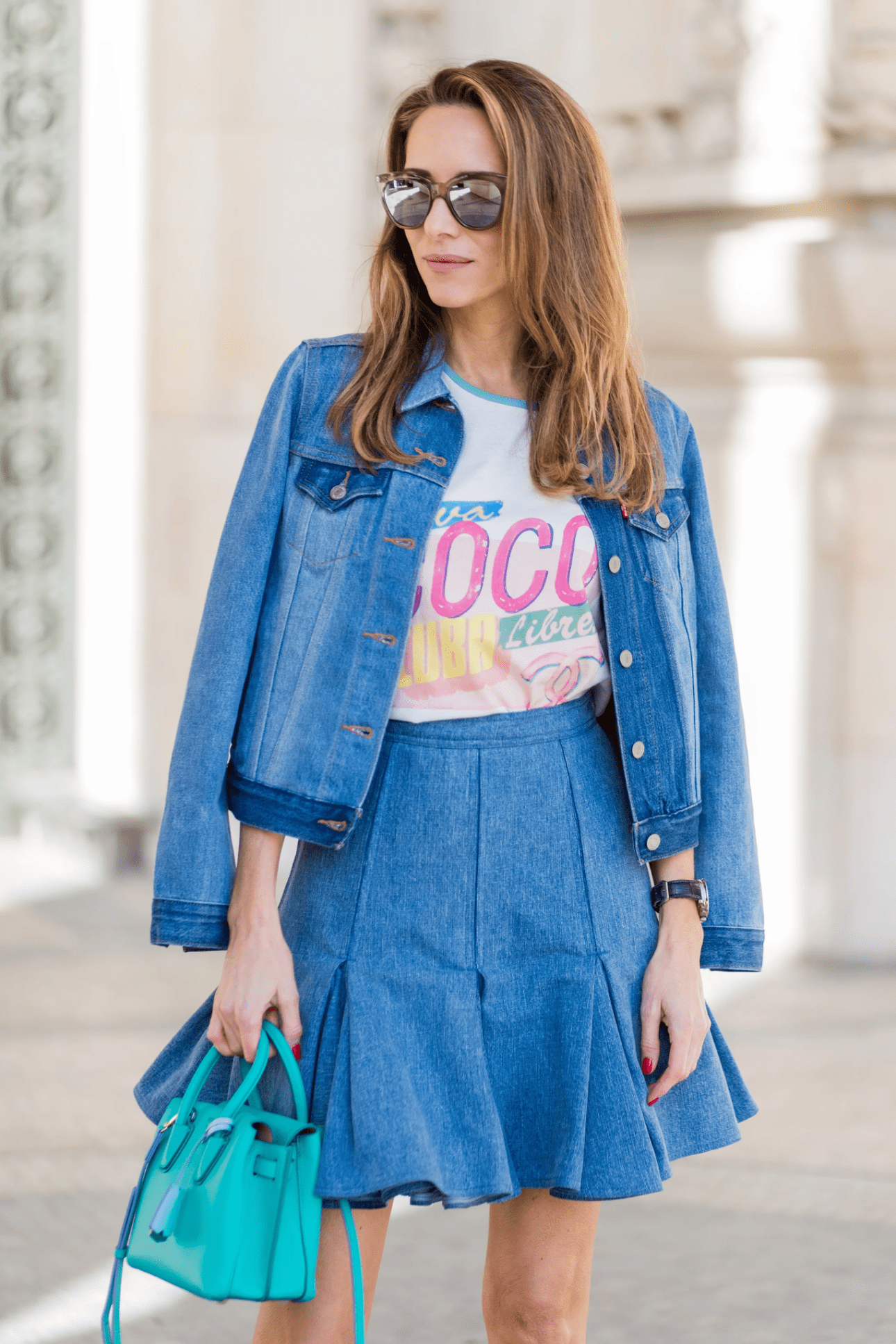 This could be a denim skirt paired with another top or a jean jacket/shirt. Denim on denim is a nice combo you should try out.
If you can't get the same color of denim skirt and shirt, feel free to try different colors. For instance, a blue denim skirt and a white denim shirt.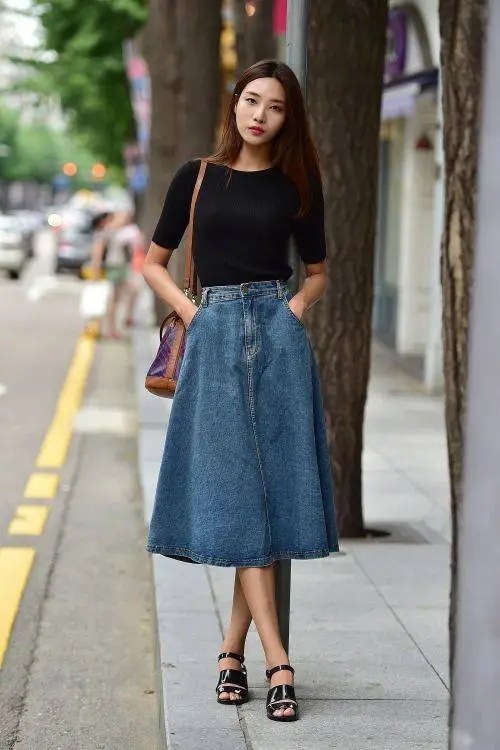 That aside, you can always pair your denim flared skirt with any of the tops mentioned above whether they are denim or not.
10. Wear Leggings Underneath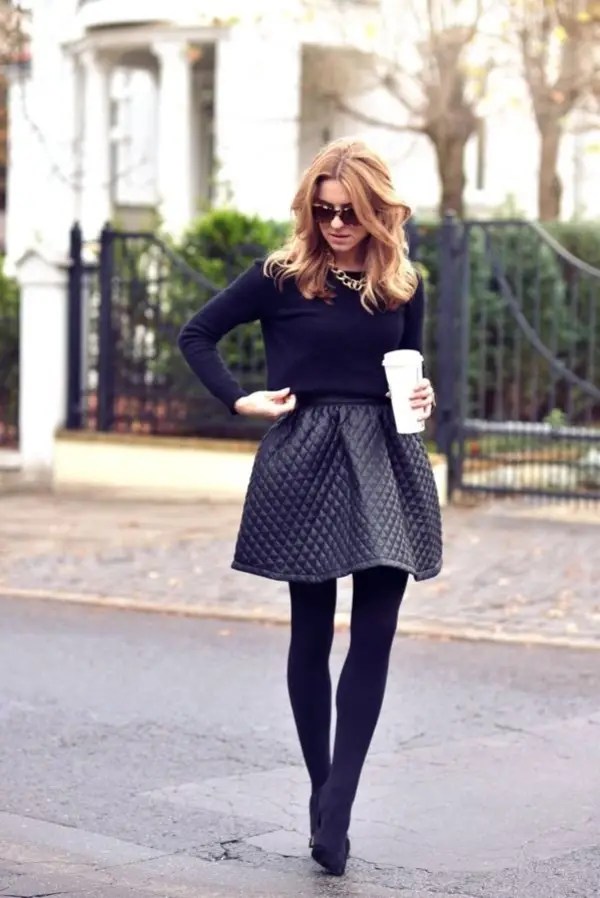 Are the skirts too mini for you or you just wanna give people more deets to stare at when they look at your legs? Wear a pair of leggings underneath.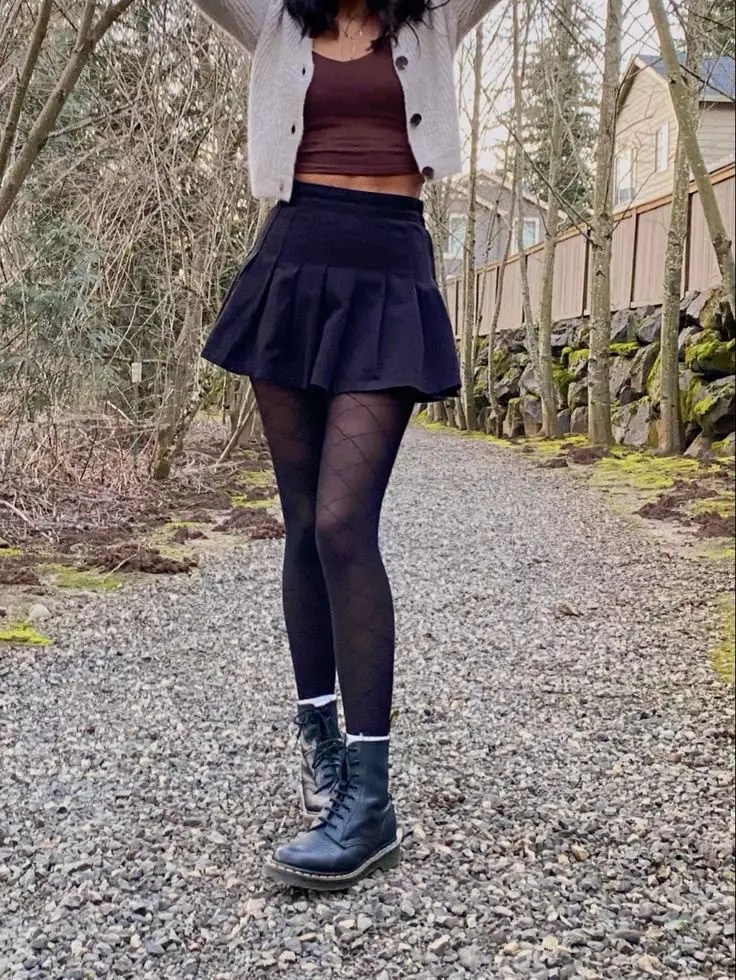 They add more details to your look.
11. Flats or Heels Too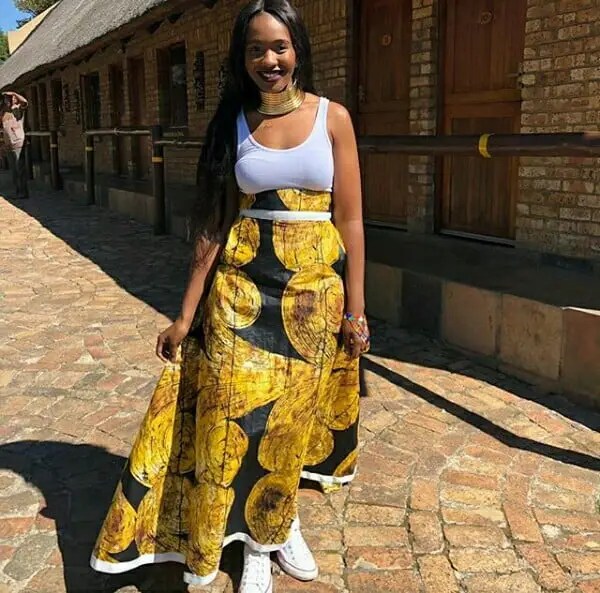 Sneakers, sandals, and ballerina flats work with this skirt. But if you want to exude more confidence and it's appropriate for the occasion, go for any comfortable heel of your choice.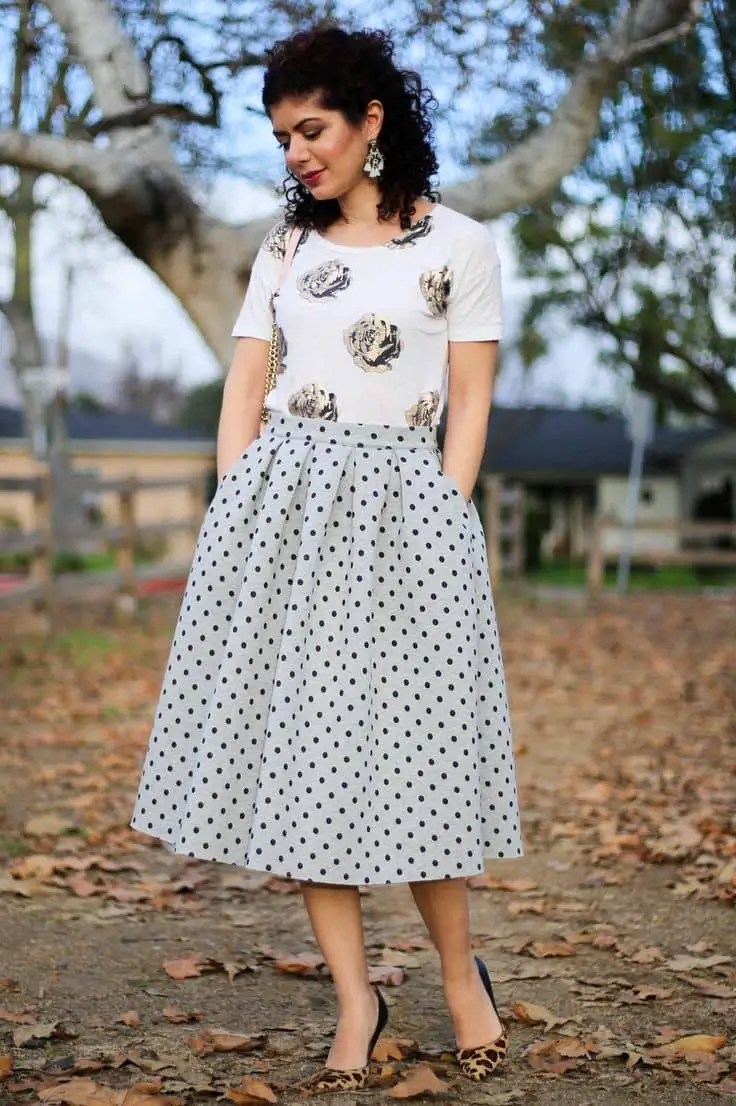 Dunno how to walk in heels? Not a problem. We have a style guide on how to wear heels comfortably.
12. Accessorize
Don't just end up wearing your shoes alone. Grab on a hat or your sunglasses. And add your belt,  wristwatch, earrings, necklace, and other jewlery to the mix too.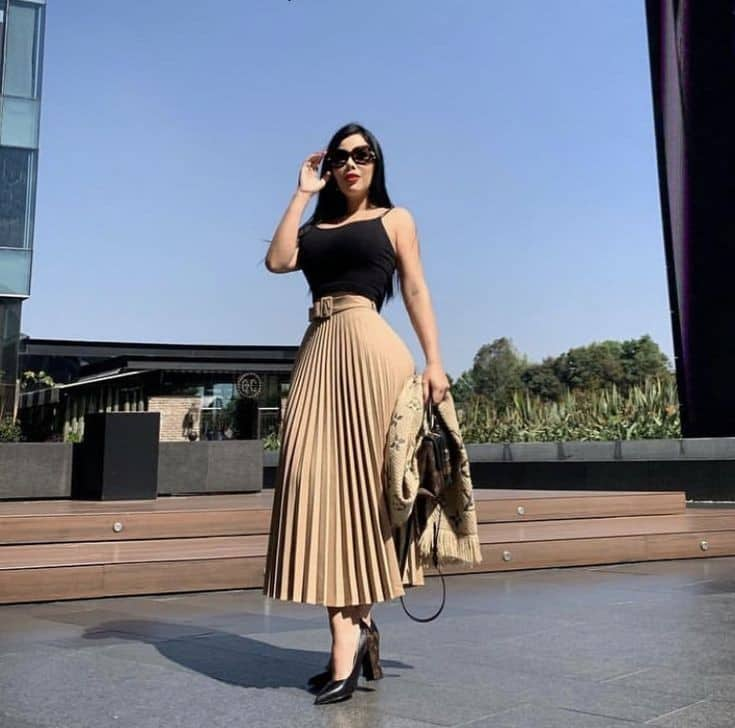 There you have it. Now go ahead and use these tips to rock your flared skirts with style.