Fashion
Gorgeous Braided Ponytail Hairstyles for Black Women
As I began the introduction of this piece, my mind flashed back to the day my friend wore a braided ponytail.
Before this day, she had refused to have her hair done. And so, she went about with her natural hair. Finally, she decided it was time to dress her hair. And after spending hours in the salon, she set out on her journey back home.
No sooner had she left the salon than a cute young man walked up to her to compliment her.
As she recovered from his attention, she met a lady who ran a makeup studio.
You can guess my friend's excitement when she narrated these incidents to me. But she added something that made me conclude her hair brought the attraction: My friend was right. 
A woman's hair is her glory. And when she manipulates it into beautiful coiffures like braided ponytails, she'll become the cynosure of all eyes like my friend.
I guess that's the reason you're on this page. And to help you out, we've curated the trendiest braided ponytails to inspire you.
Keep reading as we dive in.
Why Braided Ponytails?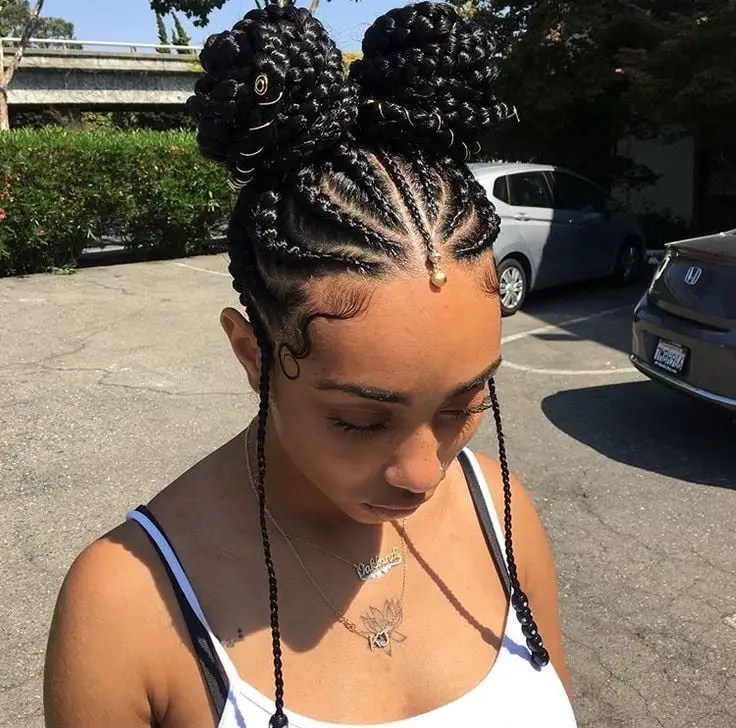 Unlike the usual ponytails, you don't use weaves for this one. It's an attachment hairstyle and so, to achieve it, you use hair extensions like attachment.
It's multifunctional and versatile like every other type of ponytail. While the western people of Nigeria call it shuku, you can also call it a braided updo or updo cornrows.
Braided ponytail hairstyles are a must-do if you want to make a fashion statement with your hair. They're versatile too.
For instance, you can add more accents to your hair with colorful extensions and hair accessories. Not only does this hairdo frame your face. You can beautify it further by adding beads, cowries, etc.
The best part is you don't have to use gel or anything to keep your hair flat on your head. Once you braid your hair into cornrows, it sleeps flat.
Bonus?
You can do any style of cornrow braids you want. Be it zigzag, stitch braids, two-step, etc. It's all possible with braided ponytail hairstyles.
To illustrate, let's see these styles in action.
Types of Braided Ponytails
1. Stitch Braids Ponytail
This braided ponytail hairstyle uses the feed-in technique. Most times, it features both thick and tiny braids in a row.
2. High Bun Braided Ponytail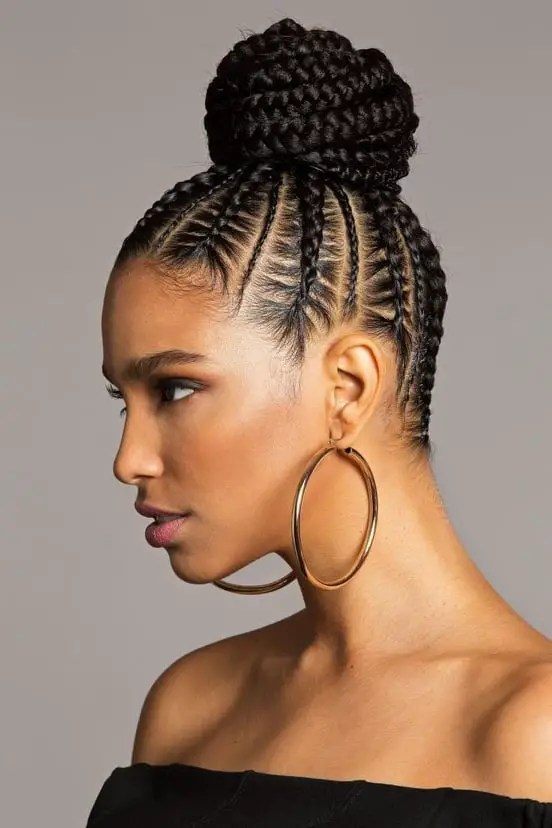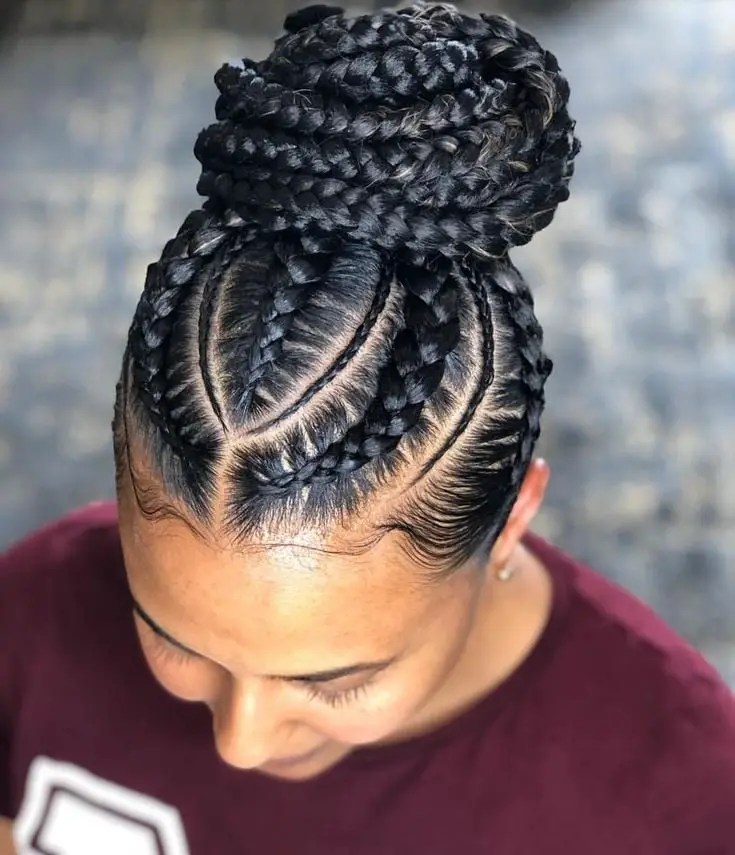 This braided ponytail is done to create a bun in the middle of the head. It's a retro shuku hairstyle. Women of old kept their bun as high as the middle of their heads before different variations came up.
3. Braided Ponytail with Weaves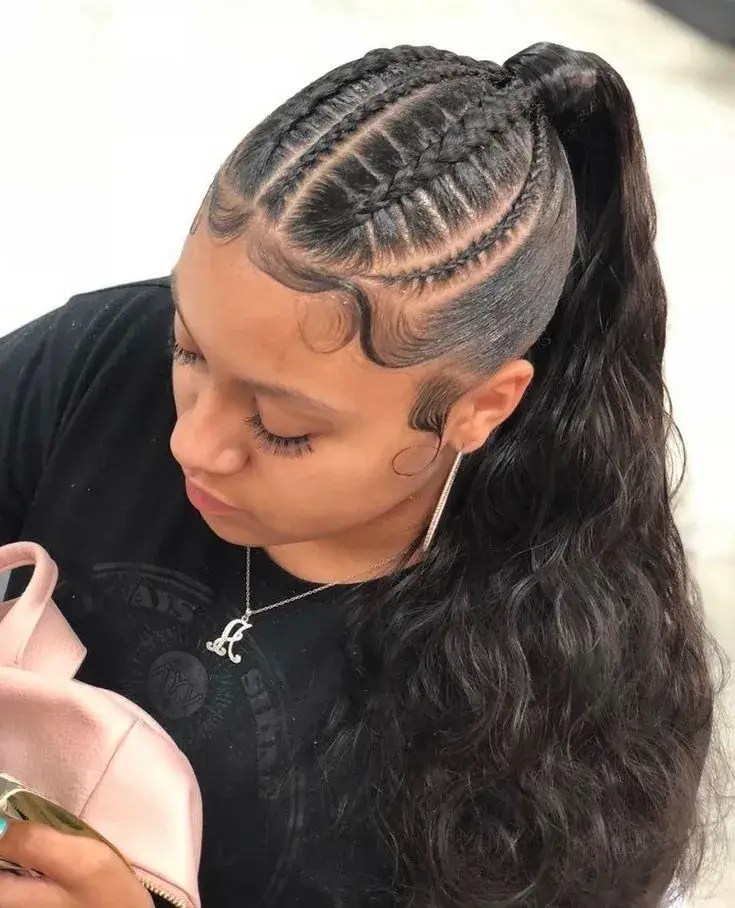 This is the classic unfinished shuku. It's a combo of attachments and weaves.
To achieve this hairdo, you braid the top part of your hair into five or more updo cornrows. After braiding, you pack it alongside your unbraided hair into a bun.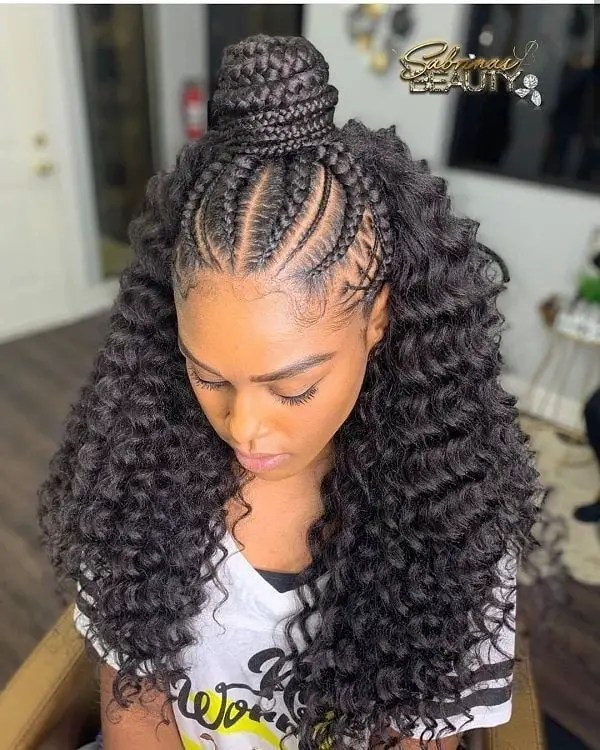 The result is a gorgeous ponytail that highlights the Afrocentric queen in you.
4. Colorful Braided Updo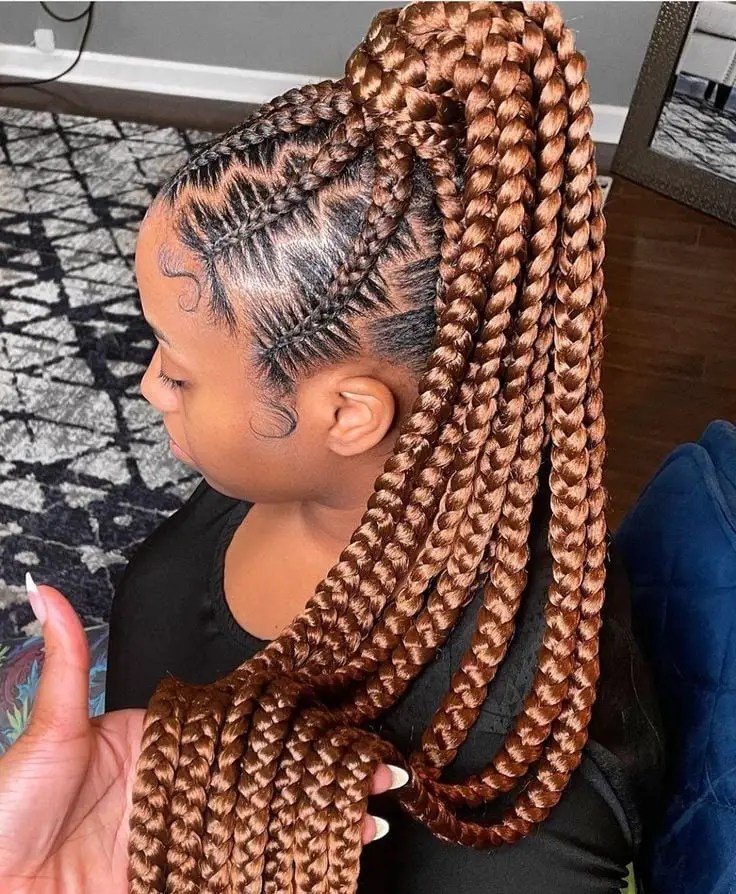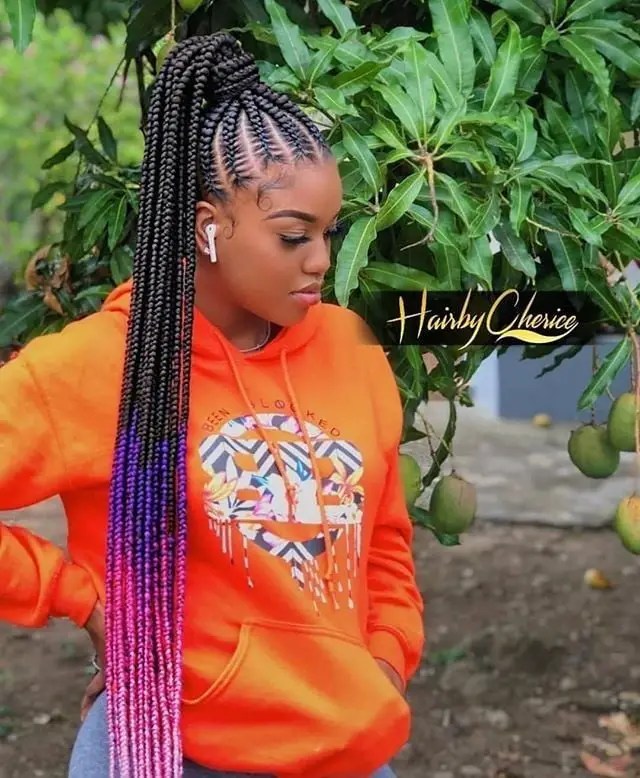 This is simple. Just go a step further from the usual black and use a colorful hair extension for your updo cornrows. You can do this with any style of braided ponytail you choose.
5. Double Braided Updo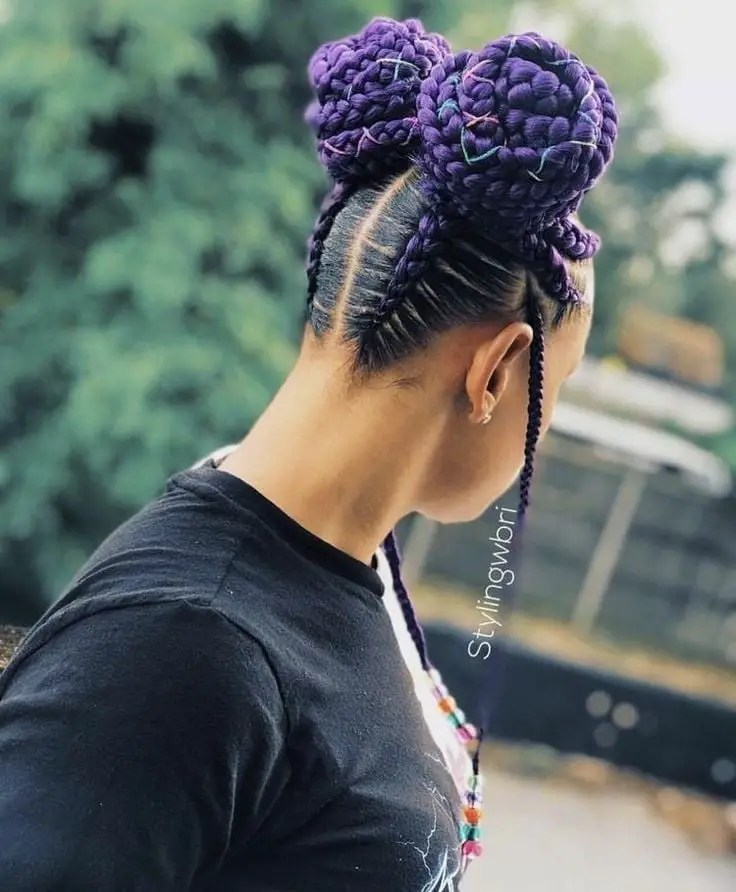 How about you wear two ponytails at once?
This style involves wearing two buns on the head. It's a beautiful hairstyle and you can have thick or thin cornrows that make up your buns.
6. Braided Ponytail with Dangling Cornrows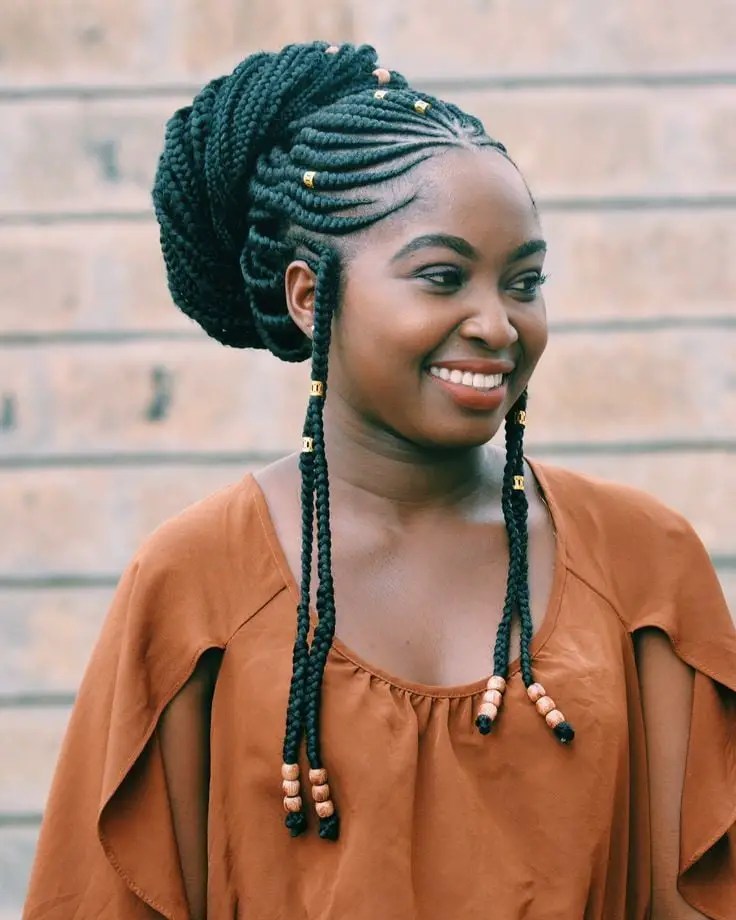 This is a great way to add more details to your braided updo. Just let one or two thin cornrows dangle and fall by the side of your face.
Then add beads to spice everything up.
7. Beaded Braided Ponytails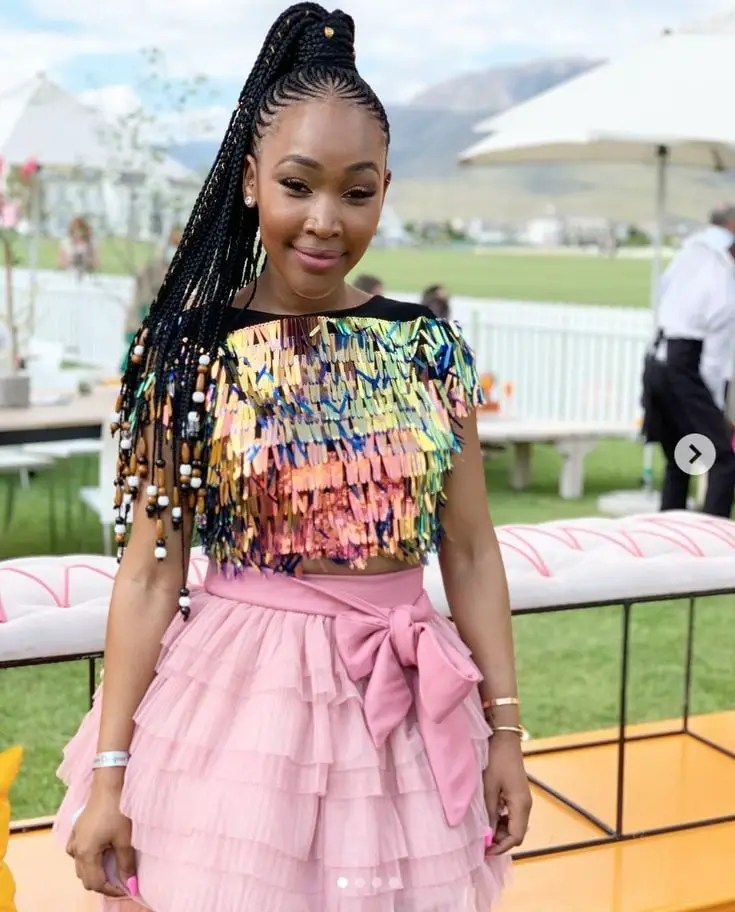 Speaking of beads, you can also adorn your braided ponytail with beads. It'll stand you out from other ponytailed ladies.
8. Half-up, Half -down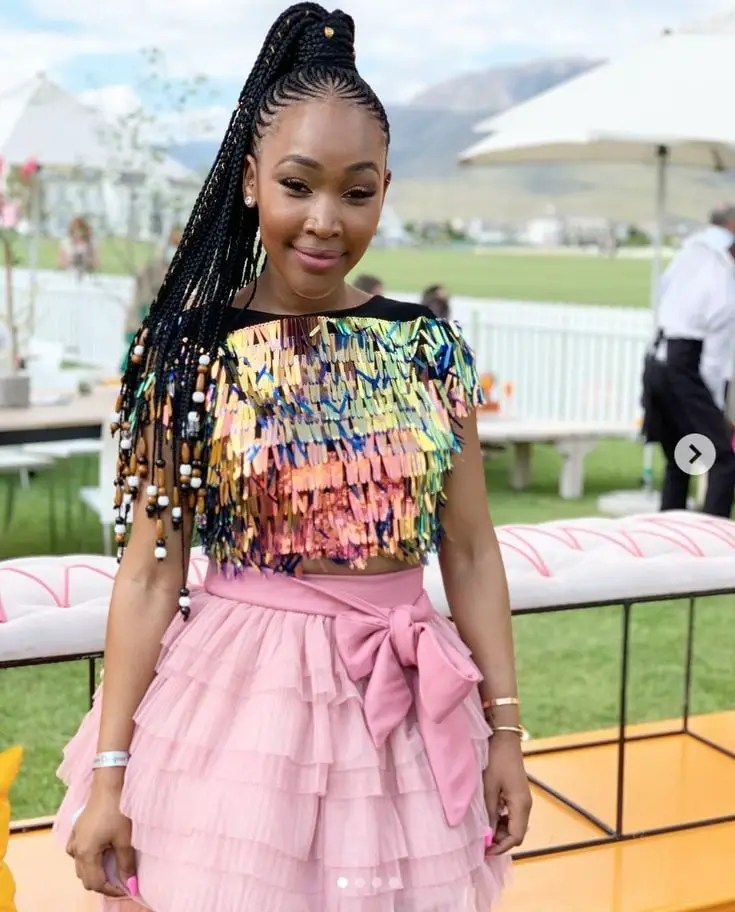 For this, you style half of your hair into an updo and leave the rest lying down. It can work with weaves or a combination of shuku and all-back cornrows.
There you have it! Now, which of these braided updos are you going for?
Whichever one it is, know for sure you can have them in any size or length you want. You can also mix them with Senegalese twist which is different from the classic box braids.